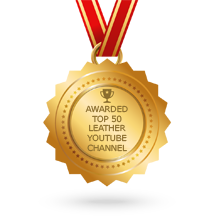 Backside Finish Application on Leather
Alligator, Caiman, & Crocodile Leather, and it's Applications
Book Recommendation: Bob Park's Creating... "Western Floral Designs"
This video is a review and recommendation of Bob Park's book, "Creating... Western Floral Designs"
Perhaps like me you are pretty good at carving and tooling designs into leather, but struggle artistically to come up with your own floral designs that can fit nicely into your leather projects. In Bob's book he takes you step by step through the process of designing your own floral artwork with lots of illustrations, examples, and explanations. This is a great resource for those of us that need a more mechanical and clear cut process to drawing designs such as these.
Special thanks to Bob Park for taking the time to lend his expertise and pass on lots of great leather working tips. You can order Bob's book from Amazon, or from Barry King tools where I purchased mine. Enjoy!
Professional Edge Burnishing
At some point most people start looking for better ways to produce a more professional looking burnish on their leather projects. There are a lot of options available when you are ready to upgrade your workshop, but in this video I'll show one affordable and effective way to professionally finish and burnish the edges of your leather projects from about $150 - $200 USD.
Making Tracing Patterns From PVC Sheets
In this quick tip I'll show you how you can create your own pattern templates out of PVC sheets in just a few simple steps. Most of the items used in this video can be conveniently purchase at most craft or arts supply stores.


Tips For Tracing Artwork Onto Leather
In this quick tip I'll show you how you can save time and effort tracing artistic patterns onto leather.